Hi Everyone!
I sure hope you've had a great week so far! It's been pretty good here. I've complained so much about the weather that I must say that it's been absolutely gorgeous here! Not too hot, very little humidity... just wonderful!
I've been busy finishing up the Children's Birthday Volume 2 CD and I'm so happy to report that it's all finished. I had a lot of fun with this CD. The cards date from 1924 to 1966. There's number cards for ages 1 to 8, a few cards for family members - son, daughter, grandson, aunt and niece. You'll find boys and girls and teenagers, puppies and kittens, cowboys and Indians and fireman, sorry I'm late and even a few party invitations. I hope you love the finished product as much as I do.
You can purchase the CD by clicking here for
ebay
and here for
etsy
Here's some samples of great cards made by the wonderful and talented Divas in the DT. Aren't they just the cutest? If you double click on one of them, you'll be taken to the Designers folder where you can see additional cards that they've created. Want to visit their blogs - just click on their names over there in the right side bar.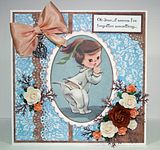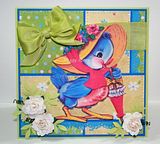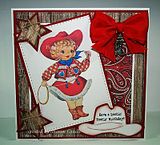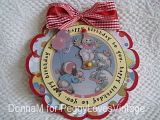 Did you have a great Labor Day weekend? We sure did although it was rather busy. We had a Wedding and a Hog Roast we had to attend. The weather was gorgeous and everyone had a good time. Of course, they were prime picture events and proud grandma just has to share
:)
Aren't they just the cutest!
At the hog roast, it was a little chilly for swimming but Jordan just couldn't resist. She was freezing when she got out. But, she wasn't cold enough to resist a blueberry slurpy which resulted in a blue tongue. Don't you just love the wonderful outfit - a winter coat and a bathing suit - what a combination!
And last but not least, Kaiden's first day of pre-k. He was sooooooooo excited! Isn't he a handsome little stud muffin.
Have a great week, plumb full of smiles!
Peggy