Hi Everyone,
How's everyone doing? DFIL is still in the hospital and things around here are still absolutely crazy. I apologize for not visiting all my blogging friends and for not keeping up with everyone. I really appreciate your patience and hope that you'll bear with me during this time.
Do you believe in fate? You know the kind where you stumble onto something just by chance? I do, it seems like sometimes there's just not an explanation for why something occurred and how you happened upon it but somehow the outcome always seems to be better than expected. For example, a while back as I working with my ebay store, I ran across a posting for a vintage scrapbook. Now, hopefully you all know that I love vintage scrapbooks... lol But anyway, I wasn't really shopping for a scrapbook, ebay just presented me with the listing. The description caught my eye because it said the scrapbook had Halloween cards in it. I'm always watching out for Halloween cards because they are few and far between in the scrapbooks. Anyway, I won the bid and anxiously waited for it to arrive.
I was super delighted when it did arrive because it was huge, just chock full of cards. So I devoured each and every page, just hunting for those Halloween cards. As I turned each page, I quickly noticed that there were tons of vintage military cards, every other page seemed to have one, Birthday, Easter, Christmas, St. Patrick's Day, Thanksgiving, Valentines.... you name it there was a military card for it. As my mouth continued to drool, I'm thinking wow, there has to be some great Halloween cards here and I continued to check out each and every card...
Well to make a long story short, way in the very back of the scrapbook, I found one little Halloween card. It's really hard to say I'm disappointed, because now I have all these great military cards that I can use to create some great stuff for Trevor while he's deployed but I sure didn't expand my Halloween collection by much... lol
So what do you think..... was fate playing a role? I sure think so!
Anyway, now I have tons of military cards that I'll be able to share with you as soon as I have time to get them scanned and cleaned up a bit. I'll probably create some cut outs, it's so much faster to only have to get six or seven images finished and listed than it is to get a few hundred done... lol
Have you seen the three new cut outs that I listed just a while back. I had a buyer who was looking for some "new" images so I was able to squeeze in three new cut outs in the Cutie line. They're available in all the stores.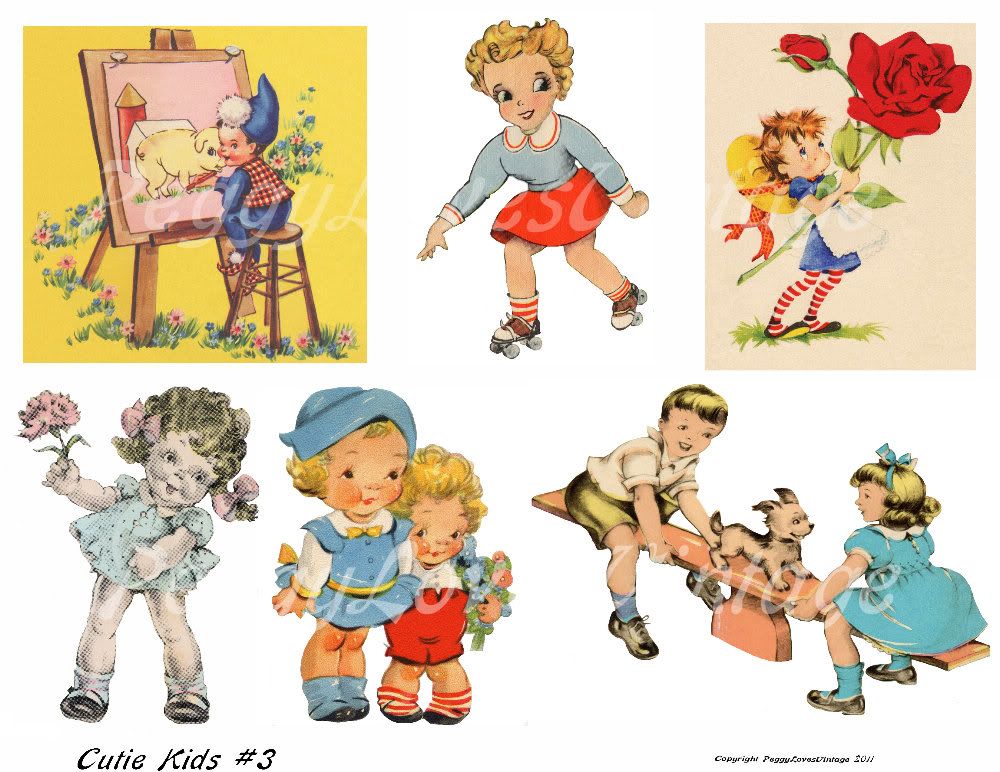 You can find them by clicking here for
web shop
or
Etsy store
or the
ebay store
Now, for some other fun stuff.... As I was searching my "new" military scrapbook, I ran across this card. Isn't it just a hoot!!!!! And, no, I didn't Photo Shop it, it's the real thing!!! lol
I haven't had any challenges for a while and I was thinking that this would be a good card to have a little fun with. So, the challenge is to come up with a really great sentiment for this card. You don't have to make a card or anything, just come up with a sentiment and it doesn't have to be Christmas related. Post your sentiment in the comments area by May 12 at midnight CST and make sure I have a way to contact you. The best sentiment will receive their choice of any 5 Cut Out sets or 1 CD. So get your thinking caps on and see what you can come up with.
Trev's birthday is in July so I'm thinking about his Birthday card. I've got to get in the habit of thinking of holidays early for him because God only knows how long it will take mail to get to him. So in the spirit of that, I thought I'd share one of the new military birthday cards. So as usual, make sure you click on it before you save it so you can get it at the full size.
Have a great week, plumb full of smiles!
Peggy