Hi Everyone,
Did everyone have a nice Thanksgiving? We had a houseful of people and as usual had a ton of leftovers. No cooking for me for a while. lol The kids brought out the xbox and the new Kinect and played it all evening. The Kinect sees all your movements and incorporates them into the game, so controllers aren't required. There's all kinds of games from sports to adventures to dancing. We had a grand time watching them. I'd say it's a great way to get the kids off of their butts and up and moving! Even 82 year old grandpa took his turn at playing the bowling game. It was a real hoot! I think everyone enjoyed themselves.
This week I thought I'd showcase Christmas Volume 10. This volume has three folders, Calvin 1952-55, Louise 1940-62 and Ellae 1955-57. Here's just a few of this CD's images that I love. Double click on the image and you'll see a larger view.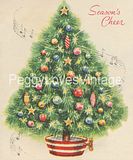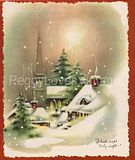 If you'd like to see more images on that are contained on this volume, check out the video by
clicking here
You can purchase this volume for 9.99 from
Etsy
,
ebay
, or the
Web
Stores. And if you say the word
blog
in the PayPal payment message area, I'll refund 1.00 of the purchase price to you. This special sale is available until midnight CST December 4, 2010.
This week I'd like to share an Angel image from the Saint Clair collection which dates from 1946-57. The Christmas cards from this collection aren't available on a CD yet. They're some of many that are patiently waiting for me to finish up on them. But, they'll make it one of these days. Anyway, I hope you enjoy this image as much as I do. Make sure you click on her before you save her.
I've got to run for now, I have a ton of things to do. I hope you have a great week, just plumb full of smiles!
Peggy